If you have settled your business and you don't have enough client. At that time you have to advertise your business or brand in an efficient way. The most effective and best strategies that may count for advertising purpose are SMS Marketing and Email Marketing. Both techniques plays different and important role to grow your business. But to check the effectiveness of the technique you must have the knowledge of both strategies. Business man or a brand must know the pros and cons of both strategies or one of them in accordance to there brand.
Each strategy have its own benefits and disadvantages according to the content you are delivering to your targeted audience. It is very difficult to pre-analyse the revenue that may generate on the investment you have done on campaign. For both techniques these are very cheap and effective strategies to target large audience. Sometime, we feel the output of both techniques similar but in actual both strategies don't shows the same outcome. Results of one technique is not same as that of the other technique although you are promoting similar business. Let us compare some factors that may cause advantageous effect to one technique and disadvantageous to other. But before analyzing these factors let us briefly describe both techniques.
What is SMS Marketing?
SMS Marketing is a marketing media that allows many businesses and brands to send marketing messages. Marketing messages could be promotional or corporate . In promotional SMS Marketing organizations send texts in order to promote there business. Messages could be the alert of discount coupons, exclusive offers or an invitation to launch a certain product. Similarly, Corporate type messages are those which are not the intend to sell anything. It may include your meeting notice, acknowledgment message, a message of any technical visit or your bank transaction details message. It is a modern tool that promote interaction among the customer and the organization.
What is Email Marketing?
Email Marketing is also an efficient way to promote your product or services. We can also say that it is the method that built your relation with potential clients. It is actually the type of internet marketing where we don't send mail by post but electronically. Email Marketing also the efficient way to promote and sell your product and services. It is more inexpensive and effective way to come out in the world on first.
SMS Marketing & Email Marketing:
Here are some factors that have some good and bad impact on both of the Marketing techniques:
Message and Email Open Rate:
It is always the higher aim of organizations and businesses to grab the attention of there targeted audience. They always try to find the methods that cause more attention of clients toward there products or services. It is much beneficial for businesses you are using your phone and find the beep of SMS or email notification and then took interest in the email and message to read. Here they actually achieve their goal of grabbing your attention.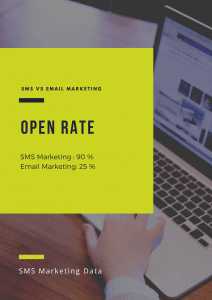 According to the experts calculations whenever you send a marketing message to users 98% among all of them open it immediately. Not they only open it instantly also response rate of text messages is about 90 seconds. However, the Open rate of Email is only 20% and people respond to it by taking about 90 minutes average.
Email and Text Message Customization:
From the heading it is clear that Email is more customization friendly. You can add any hyperlink, videos, Images and many things you want in your email for better campaign of your product and services. It is very obvious that impact of textual content is very much less then the video or any image type content.
We are not able to customize message according to our need as like Email. Because it is not easy to add image, video or any hyperlink in a text message rather it will be more expensive for you to send that kind of message to bulk of people.
Cost of Sending Message and Email:
Text messages cost vary from region to region. Every region throughout the world set there own bills according to there expense on Text messages. And we can't even customize the message on our requirements. While in Email Marketing it is obvious it is done through internet and can be customized according to your brand. Email Marketing always took less charges as compare to SMS text Marketing.
Also check: 1 Million Phone Numbers data From France
Delivery Rate:
There is always high chances of your email to go in spam folder because we unintentionally increase the length that make email some kind of irrelevant. Many organizations are working to decrease the rate of emails going in spam. On the other hand there is no such kind of issue. SMS will send to the client although you exceed the limit of characters you should have to enter in the text. But it is always a good practice don't add data more then 160-170 characters.
Sender Identity:
In an email sender identity is always visible. Because whenever you send an email to anyone your email contain your email address and user name that must visible to a person whom you are sending email. It is helpful to many organizations and businesses, along with content they are promoting there brand name as well. While in SMS marketing it is not obvious that your identity will be visible. You can send data by your name or your organisation name or you can send branded messages.
Which Marketing strategy is good?
It just only depend upon your organisation, brand or services you are offering. Because both these strategies have some bright and dark sides.You must have to prefer that technique which perfectly fit on your campaign purpose. If you use both strategies appropriately they both will generate outstanding results.
Ultimately you should check both the techniques with respect to time and cost. As these two factors always set the rate of success of your campaign and the third factor is how much you are perfect in certain technique to grab the attention of your clients.