Today's, content is all about how to set up successful WhatsApp Marketing Business in the year 2020. In this post, I will cover all the steps required to run complete professional marketing using WhatsApp. I will revile all the tips and tricks which can boost your marketing business to the next level.
As Whatsapp is a free messaging application where you can send messages anywhere in the world. What you need is a good internet connection and phone number for creating WhatsApp Account. Once you are done with account creation you're ready to send unlimited free text, voice and video messages to anyone.
How to do Whatsapp Marketing?
For starting the WhatsApp marketing campaign for any brand or product you need a Whatsapp account. Whatsapp account is a compulsory element in all marketing stuff.  Try to create Whatsapp Account on a business number that you're not using for personal contacts.
Now, let's talk about what other things you need to get started with WhatsApp Marketing.
High-Quality Leads for Whatsapp marketing
Leads play a very important role in the success of your Campaign. Always go with active and fresh leads from your targeted category. If you're not targeted the right audience for the campaign you will lose the game. No one likes to work with someone who is not giving any sort of results at the end. So always go with an active list of phone numbers that are from your targeting niche or location.
How to extract targeted leads for WhatsApp Marketing?
You can order data from our website or you can do it by yourself. For extracting data manually you need to join the WhatsApp groups of your targeted niche. After joining these groups simply go to about section and extract all the contacts of that group and store those numbers in a file. Once you are done with data extracting then move to the next step.
Whatsapp bulk message sending software(Auto Texting Software)
You cant send 100s of messages manually, for sending automated bulk messages you need software. Which you can use for WhatsApp marketing and make your campaigns fast. You can read more about the Whatsapp Marketing Solution here.
Whatsapp marketing software will help you in sending messages as well as in generating delivery reports.  You can send more messages in less time. What you need to do is simply import your contacts list and connect your Whatsapp account with the software. After connecting your account with the Whatsapp bulk sender, click star sending.
Pros of WhatsApp marketing:
Whatsapp Campaigns comes up with a lot of advantages compared to other marketing techniques. These benefits make WhatsApp Marketing more results orientated.
Free for sending messages all over the world
You can do marketing in any country with no cost
Support Videos, Images, Voice notes and Media files
57% to 87% open rate which is very high
Delivery reports + Opening status (Seen Messages)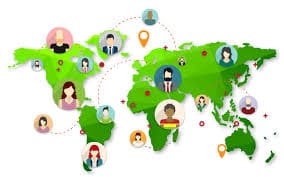 So, these are the few pros of Whatsapp and you can do this kind of marketing without any technical knowledge. Because everything is handled by the software which you use For Sending bulk messages.
This is all about how to start Whatsapp promotion in 2020 and hopefully you get a clear idea about WhatsApp marketing.  If you're looking for Leads you can check our leads section where we are providing active and fresh mobile phone numbers lists from all over the world.